"The oil is rich in antioxidants and has a high smoke point, ideal for frying or for use in salads. It is a premium product, little known in Brazil, aimed at the foreign market, mainly the US, Europe and China"
Rodrigo Chitarelli is CEO and founding partner of CRAS Brasil, a company focused on processing peanuts, benefited and certified wood and trading soybean oil, soybean bran and glycerin.
Chitarelli holds a degree in electrical engineering from the Catholic University of Petrópolis, a postgraduate degree in mechatronic engineering and industrial automation from the State University of Rio de Janeiro, with an MBA in Finance and a specialization in Foreign Trade Management from FGV.
---
AgriBrasilis – What are the main products derived from peanuts? For which segments are these products intended and why?
Rodrigo Chitarelli – Rich in oil, proteins and vitamins, peanut is a food of Brazilian origin, with several uses. The legume can be used in cooking, with the production of peanut oil, for example. The oil is rich in antioxidants and has a high smoke point, ideal for frying or for use in salads. It is a premium product, little known in Brazil, aimed at the foreign market, mainly the US, Europe and China.
Peanut meal is an excellent option for feeding livestock, such as beef and dairy cattle, and can be used as an ingredient in various animal feeds.
Products derived from peanut shells can be used for poultry litter, fuel for burning in boilers or pellet production for animal nutrition.
AgriBrasilis – What is the Brazilian peanut oil market? How important is China in this sector?
Rodrigo Chitarelli – Because it is a premium product, peanut oil is destined for the foreign market. We want to insert the oil into the national cuisine, for all its contributions to health and to the quality of food preparation.
China is the main destination of exports. Today, at CRAS Brasil, 90% of sales are directed to the Asian country. We are leaders in peanut oil trading between China and Brazil.
China is the biggest market for peanut oil. Consumption of peanut oil in this country has been growing annually, with room to continue evolving.
AgriBrasilis – In what ways can peanut meal be used for animal feed? What is the acceptance of this product in the livestock sector?
Rodrigo Chitarelli – Peanut meal, a solid residue obtained after extracting peanut oil, can be used as a nutritional component in an animal's diet, as a source of protein, fiber and energy. It can be associated with other ingredients, such as corn, sugarcane bagasse, citrus pulp, or used in the composition of balanced feeds, requiring a smaller investment than other options on the market.
With a nutritional value superior to that of cottonseed meal, and similar to that of soybean meal, peanut meal is excellent for fattening the herd. Its high crude protein content (degradable in the rumen – PDR=82%) makes proteins available almost instantly to the bacteria that act in rumen fermentation, that is a great nutritional advantage. Bran contains significant amounts of minerals such as calcium, phosphorus and potassium, as well as B vitamins.
We are seeing a growing interest in peanut meal for cattle, pig, poultry and fish nutrition. One of the factors is the greater availability of the product on the market after the arrival of new peanut industries, that guarantee production during the whole year.
AgriBrasilis – What is the potential of the internal market for peanuts and derivatives? Why is per capita consumption in Brazil so low?
Rodrigo Chitarelli – The variety of uses for peanuts is wide. There is room for improvement, especially if we consider that Brazilian per capita consumption is five times lower than the world average.
In order to increase this index, it is necessary to increase production in the field and stimulate consumption through new products that meet the needs of the population. This is the case with peanut butter, that quickly became one of the protein supplements most sought after by physical exercise fans and gave rise to dozens of brands of the product, that was previously rare on the market.
AgriBrasilis – What is role of CRAS in the sector?
Rodrigo Chitarelli – When it comes to oil and peanut meal, CRAS Brasil is the link between the farmer and the consumer, working on the industrialization of the products. To boost this market, we work alongside those who produce, providing information, support and new seed varieties.
We work with the main research companies, such as Embrapa and IAC [Agronomic Institute], in new varieties and seed lines that bring better productivity to the farmer, as a result of the genetic improvement programs developed in our Sustainable Peanut Reference Center.
Improvement results in seeds with higher oil concentration; less space between plants, increasing productivity; shorter pod maturation cycle, that reduced farming time by more than 20%; and greater resistance to pests and diseases, that lowers production costs.
CRAS Brasil is the main exporter of peanut oil in the country and one of the three main suppliers of peanut meal in the domestic market.
AgriBrasilis – In 2018, CRAS' revenue was US$ 56.34 million, while its forecast for 2023 is US$ 120.3 million. What led to this growth?
Rodrigo Chitarelli – Since the creation of the company in 2011, peanuts (oil and bran) have been one of the pillars of CRAS Brasil. In 2020, we acquired a factory in the city of Itaju, State of São Paulo, and invested in new equipment, that allowed us to triple production. Today, around 600 trucks are loaded per month, a volume 200% greater than that registered two years ago.
Another segment that boosted the company's positive results in recent years was the farming of hardwoods with sustainable management in the city of Belém, State of Pará. In this case, the focus is on the civil construction market, as the company is one of the main exporters of tropical wood and a strong distributor in the domestic market, with a focus on the axis of the states of Rio de Janeiro and São Paulo. Among the most commercialized woods, we highlight: ipê [Handroanthus spp.], courbaril [Hymenaea courbaril], garapa [Apuleia leiocarpa], tauari [Couratari guianensis], maçaranduba [Manilkara spp.], cumaru [Dipteryx odorata], angelim [Dinizia excelsa; Hymenolobium], among others, with the entire process certified by the FSC (Forest Stewardship Council), being a reference in chain of custody management. In the coming years, we want to increase commercialization in the internal market, attacking the main capitals of the country.
These activities allowed for a significant evolution of the company in the last four years, when we grew our net income three times and our Ebitda margin multiplied by two and a half times, reaching the mark of 18%.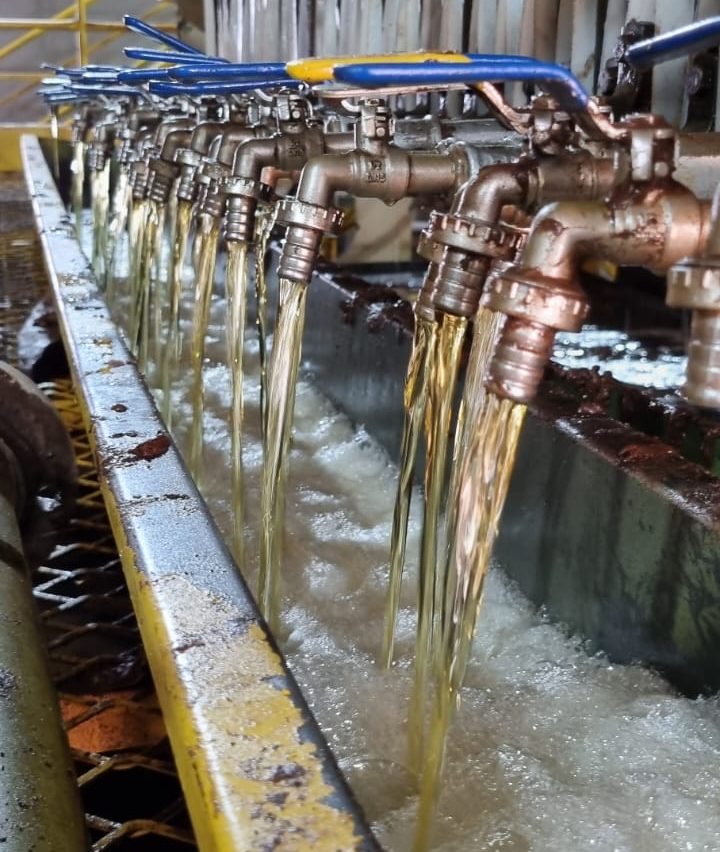 READ MORE: