"An example of success are bionematicides, that in crops such as soybean already represent approximately 90% of farmers' investments…"
André Dias is the executive director of Kynetec for Latin America, director of the Agrisus Foundation, and member of the board of trustees of Fealq. Dias is an agronomist from Luiz de Queiroz College of Agriculture – USP, with an MBA from Institute of Management Foundation – FIA.
Kynetec is a specialist in global market research in animal health and agriculture, and a leader in strategic agribusiness information.
---
AgriBrasilis – Kynetec conducts market research on agribusiness in more than 80 countries. What is your assessment of the agrochemical sector in Brazil and Latin America?
André Dias – The pesticide sector is fundamental for the protection of crops and enables food security on the planet. This sector, both in Brazil and in Latin America, follows the movements of the global macroeconomic scenario.
In recent years, in addition to the additional demand resulting from expansions of agricultural area and technology, the pandemic scenario has generated an increase in the values of these inputs. There was a stoppage of factories in the main countries that manufacture raw materials, in addition to an increase in logistical values. In 2022, Brazil reached a record value in the use of pesticides, surpassing the US$ 20 billion mark.
It is important to point out that this consumption is related to a record production of grains, with a total area in the country, between winter and summer harvests, of more than 73 million hectares.
AgriBrasilis – You believe that the biologicals market should continue to grow. What are the estimates for each segment? How much this market is likely to represent in 5 years?
André Dias – Biological inputs are an important alternative for managing insects, diseases, nematodes and for the nutritional supply of different crops.
The upward trend in the biological inputs sector is quite positive, as in several segments these products have become a reference for controlling pathogens or pests. An example of success are bionematicides, that in crops such as soybean already represent approximately 90% of farmers' investments in nematode management. The inoculants for nitrogen fixation are also a reference in soybean.
Currently, biologicals, whether for crop protection or nutritional supply, represent approximately 4-5% of total consumption in the country.
Estimates are quite optimistic, as in addition to companies specializing in biologicals, crop protection companies are also investing in this technology. Over the next five years, we should reach approximately 10% of consumption, but we should always remember that integrated management is still fundamental.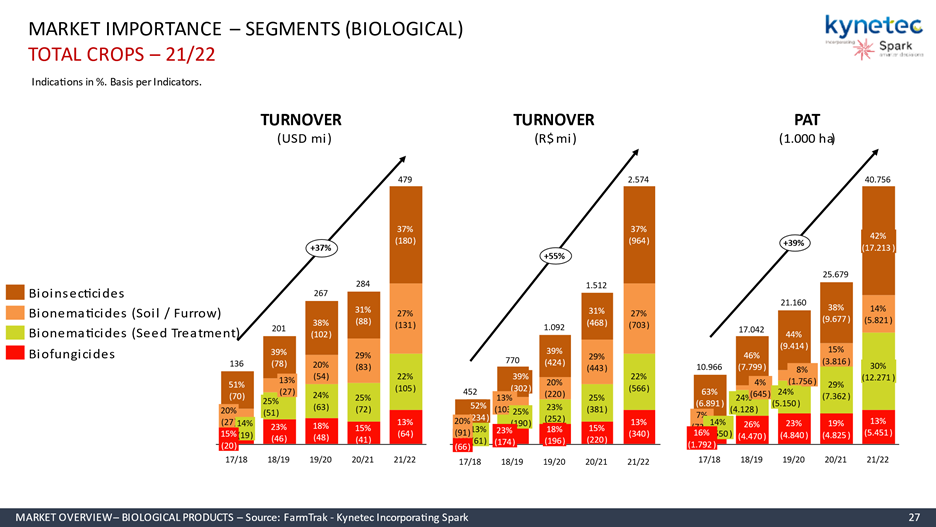 AgriBrasilis – What are the trends for other inputs, such as agrochemicals and seeds?
André Dias – Considering the strategic importance of food production, both in Brazil and in other Latin American countries (mainly Argentina, Mexico, Paraguay and Colombia), the scenario remains very positive.
We must continue expanding the area of the main crops, considering that technology, both for seeds and pesticides, is fundamental in the search for higher productivity. In this context, new varieties / hybrids and new products, whether fungicides, herbicides, insecticides, or biologicals, will also contribute.
Analyzing the short and medium term scenario, the movements should be very positive, except in terms of prices, that, mainly in the case of post-patent products, are returning to pre-pandemic levels of value.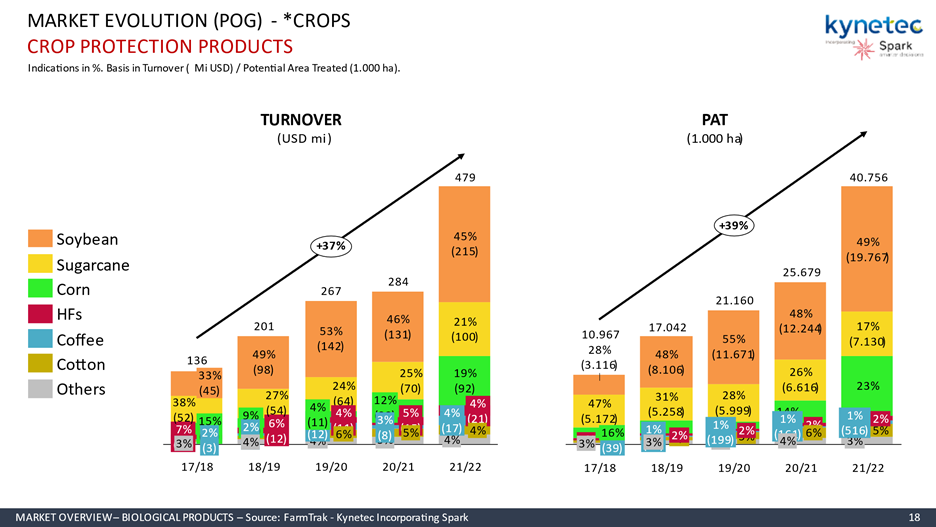 AgriBrasilis – The nematicides market grew 10 times in the last eight harvests. What led to this advance? What are the main crops treated wi nematicides?
André Dias – Nematodes are pests or soil worms of microscopic size, that cause significant damage to the affected crops, causing a drastic reduction in productivity. In Brazil, farmers have been living with this problem for decades. Practices such as the use of more tolerant varieties/hybrids, crop rotation or changing areas are widely used.
With the launch of bionematicides, farmers gained a new tool to control this pathogen. They are less aggressive products, with important cost-effectiveness and effective control. New chemical products of lesser toxicity were also launched, with high efficiency, being an alternative for rotation with the biological ones themselves.
Regarding crops, we can highlight the use of nematicides in soybean, sugarcane, corn, cotton and coffee, in addition to fruit (banana, orange) and vegetable (garlic, onion, carrot, potato) crops.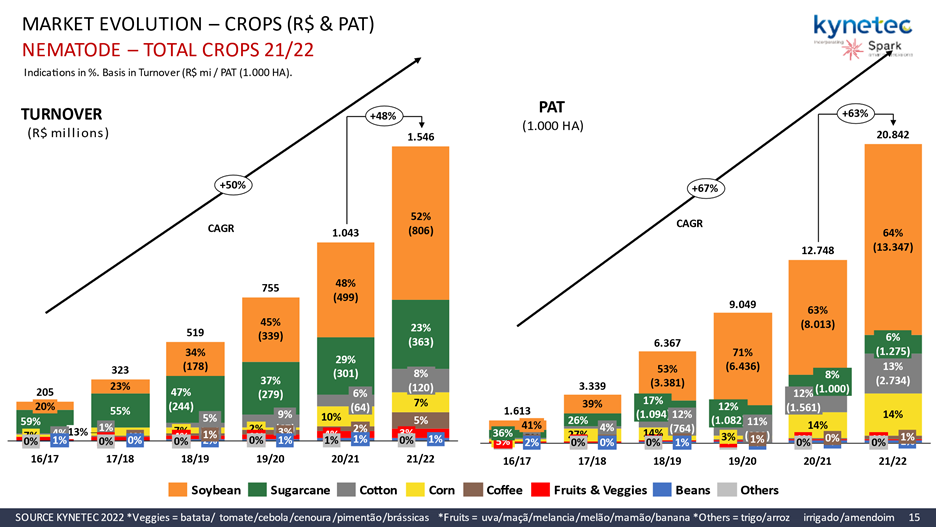 AgriBrasilis – Another sector that showed great growth was peanuts, reaching US$ 90 million. What products are used and why? What is expected for the next harvests?
André Dias – Peanuts are an important alternative for crop rotation, especially with sugarcane in the State of São Paulo. In addition to the area expansion in alternation with sugarcane, Brazil has become a specialist in the production and export of this oilseed.
Recently, a contract was signed to export peanuts to China. This event should further leverage the production and export of this product.
As for management, emphasis is given to fungicides to control black spot and brown spot, insecticides to control caterpillars and thrips, in addition to herbicides to control grasses and broad leaves.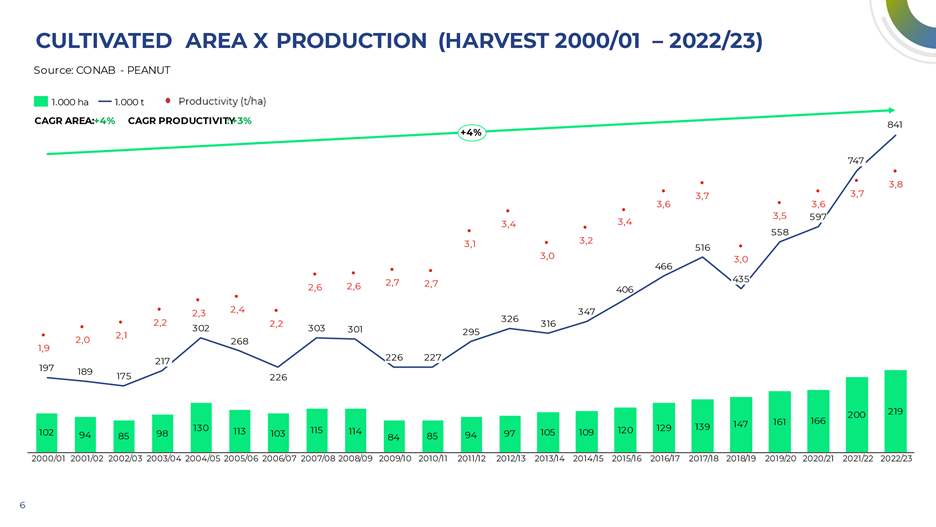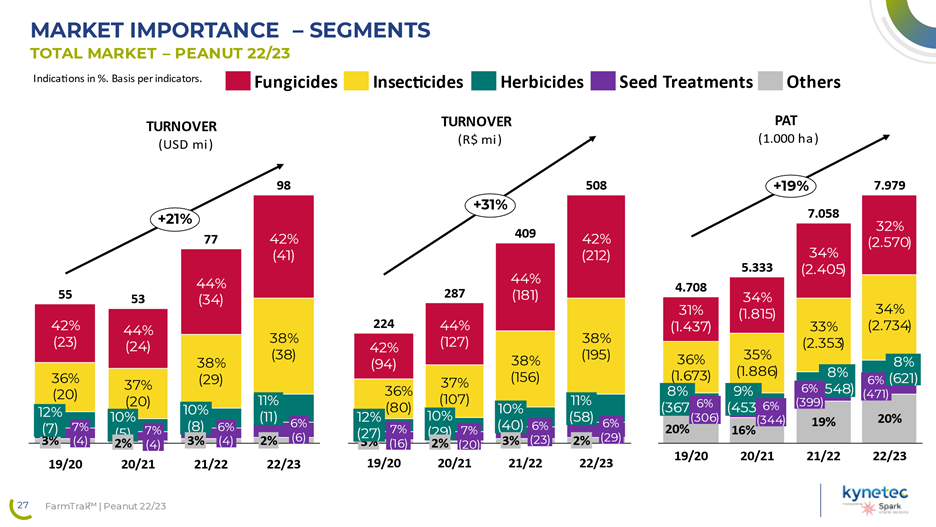 AgriBrasilis – What did the acquisition of Spark in Brazil represent for the company? What are your next investments?
André Dias – The acquisition of Spark consolidates Kynetec in the country as one of the main market research companies for agribusiness. In addition, the company's main product, the FarmTrak® market panel, combines the expertise and teams of two companies with agriculture in their DNA. New studies in different markets and crops, such as nutrition and machines were made possible with this acquisition.
In 2023, we will already have a study about plant nutrion on the five main crops in Brazil: soybean, off-season corn, cotton, sugarcane and coffee.
Kynetec has also just acquired MQ Solutions, a company specialized in price studies about agricultural inputs.
READ MORE: