"Since the conception of the project we have been concerned with sustainability, and this has enabled us to obtain certifications that were previously unheard of for the production of cachaça."
---
Laura Vicentini is an agronomist graduated by the Universidade Estadual Paulista "Júlio de Mesquita Filho". She is technical manager and partner at Spinagro. Vicentini was coordinator of agricultural planning and control at Usina Santa Fé and supervisor of agronomic development at Raízen.
Spinagro is a company that produces pre-sprouted sugarcane seedlings and cachaça, using the residues of sugarcane billets for grinding and obtaining the juice, in addition to other methods of circular and sustainable economy.
---
AgriBrasilis – What are pre-sprouted seedlings and what are their benefits?
Laura Vicentini – Pre-sprouted seedlings are seedlings acquired from field sugarcane buds. They promote the growth of both new and old varieties of cane, in a safe way as to their fast-growing genetics and sanity.
Briefly, how pre-sprouted seedlings are an effective, fast and healthy way to determine the plant varieties of a supplier or mill.
AgriBrasilis – What differences exist in the management and planting of pre-sprouted seedlings compared to conventional planting?
Laura Vicentini – In a way, they are similar, because both plantations need good soil preparation, correction and nutrition for their installation, as well as high temperature and good humidity for seedling development.
Pre-sprouted seedlings have a growth advantage when planted in the field, as they are already sprouted, with a certain mass of roots and leaves. Thus, they are different from the culms, used in conventional planting, which requires more time and energy to sprout their buds, emit roots and leaves and, finally, develop.
AgriBrasilis – Are the seedlings more sensitive to pest attacks and climatic factors?
Laura Vicentini – Pre-sprouted seedlings need water in their installation/planting to ensure their "stickiness" in the area. Since they are already well developed as mentioned before, the lack of water could condemn them.
As for the attack of pests, in any planting we must be careful enough to ensure that there is no attack against the seedlings, whether stems or pre-sprouted seedlings, since these cause negative impacts on the development and installation of the crop.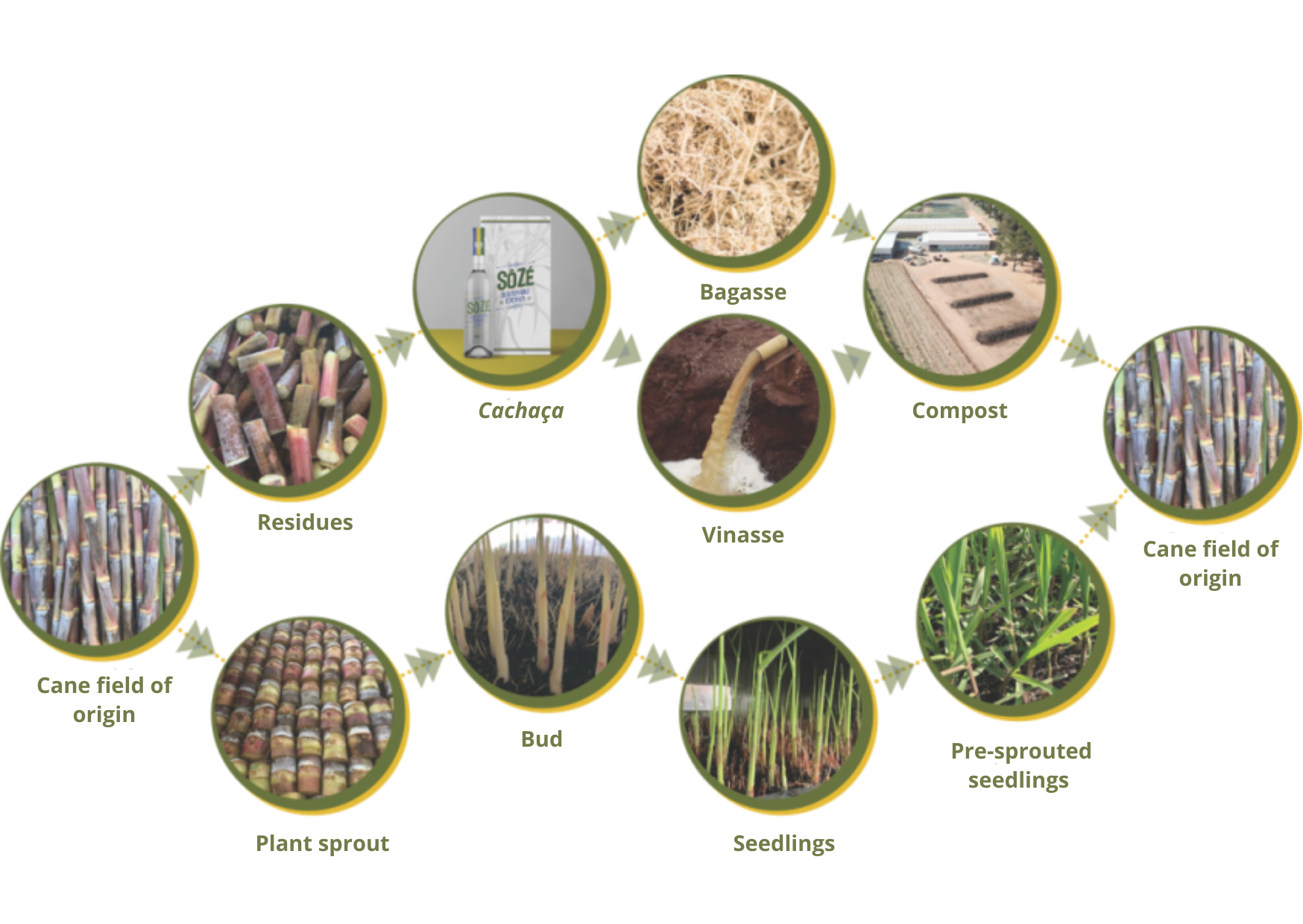 AgriBrasilis – What is the differential of the cachaça produced by Spinagro?
Laura Vicentini – Since the conception of the project, we have been concerned with sustainability, and this has enabled us to obtain certifications that were previously unheard of for cachaça.
In addition to the green footprint in our cachaça, we are concerned with the production of a highly sensorial beverage that fully adheres to the production quality requirements, which has given us visibility in the foreign market. We only produce cachaça for export.
AgriBrasilis – Why is Spinagro's production considered to be based on a "circular economy"?
Laura Vicentini – The circular economy is based on a new way of designing, producing and marketing, ensuring the intelligent use and recovery of natural resources. In this way, we studied all our production, and thought about where it would be possible to act in a beneficial way in the reuse of products that were previously discarded, and in the conscious use of finite resources.
Our cachaça uses residues from our production of pre-sprouted seedlings, such as the stem cut in the extraction of the sprout, and the matrices that will not give rise to seedlings. All residue generated in the production of our cachaça is cycled and returns as fertilizer to the extraction fields, which will originate new buds for the production of MPBs, or stalks for grinding and obtaining the cachaça again.
Other examples of the conscious use of natural resources are the use of stored rainwater to wash equipment, and the recycling of water from the cachaça cooling system, reducing the need for water in the process.