Fernanco Escobar, specialist promotes general panorama in Colombia
The use of multispectral sensors in agriculture has generated rich maps with large amount of data, which requires advanced mathematical techniques to be processed.
Gradually, the concepts of drones become more and more confusing with the concepts of precision agriculture, becoming a great tool to aid decision making.
Fernando Escobar, an industrial engineer, specialized in operational engineering, currently general manager of Advector in Colombia, granted this exclusive interview to AgriBrasilis.
---
AgriBrasilis – What are the main characteristics of the agricultural drone market in Colombia?
Fernando Escobar – Colombian agriculture is diverse in terms of crops and thermal variations. Most crops are small, with a low rate of technology, very traditional management and with an incredibly low level of profit, so there is little to invest in technology.
Although there are some international and national associations, such as the Colombian Farmers' Society, Fedepalma and Asocaña, the vast majority of farmers and growers belong to local associations, so the market is very fragmented, making commercial and operational work difficult.
Currently, drones are being used more in sugarcane, rice, palm and banana crops. Its main application is in area are measurement, crop planning, phytosanitary analysis with NDVI indices and in fumigation. The most used area is the Valle del Cauca, Tolima, Urabá and Llanos Orientales.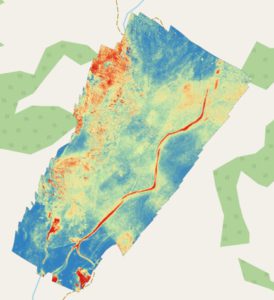 AgriBrasilis – How does the company operate?
Fernando Escobar – We started in 2013 and our effort has been focused on researching and integrating the technologies and sensors available to our teams, seeking information with technical and useful support for our customers.
We offer useful information to the different phases of crop development, such as the preparation of maps to measure the property's areas and boundaries, land use maps and topographic maps, useful for the design and crops planning and irrigation systems. We perform algorithms to identify depopulations and forest inventories and capture multispectral or thermal images for the elaboration of plant indexes, such as NDVI.
AgriBrasilis – Is there any restriction in the legislation that regulates the country's airspace?
Fernando Escobar – Colombian Civil Aeronautics has been regulating the use of drones since 2015 with Regulatory Circular 002 and this has included the definitions, scope, requirements and restrictions in the Colombian Aeronautical Regulation RAC 91 Annex 13.
This regulation is broadly in line with most laws in the world. Classify drones into categories based on their weight and usage.
Class A drones are those that weigh between 250g and 25kg and are used to capture images (photography and video) that do not exceed a flight height of 400 feet or fly beyond 500 m from the operator, do not operate in public or within a radius of an airport.
In this category, they classify equipment for photogrammetry or crop inspection with specialized cameras. Class A equipment is in the "Open" category and does not require authorization from the Civil Aeronautics. As for the use of drones for fumigation, the regulation classifies the equipment for its use as Class B and is regulated, that is, it requires express authorization from this entity. For this category, the equipment can have a maximum take-off weight of 150 kg, a maximum height of 400 feet, an operating radius of 750 m and cannot operate within a 9 km radius of an airport or over people.
The authorization request requires that the company or person must be registered in a database administered by Civil Aeronautics, the drone operator has to be certified or pilot course in an authorized training center, use of Non-Contractual Liability with a limit of liability equivalent to 33,333 golden programs, an Operation and Maintenance Manual with some guidelines given in the circular and follows the procedure described in this same regulatory document.
AgriBrasilis – What are the main barriers that delay the development of this market?
Fernando Escobar – The main barriers are:
1) Low levels of investment and profitability in the agricultural sector.
2) Preference for traditional or ancestral methods and little (or low) technology adoption.
3) There are companies or people that provide services with drones without technical support or knowledge, generating false expectations, with their consequent violations and loss of credibility in technology.
4) The sensors are still somehow limited in terms of the information they can receive and their weight, size and cost ratio. That is, the sensors that can receive enough information are too large to be loaded on drones or too expensive.
5) There is still a great dependence on the complement with the information collected in the field, so the use of drones is not yet a final and complete product useful for the farmer. Existing methodologies are not "universal" and must be adapted to each culture and territory, which avoids overcrowding.