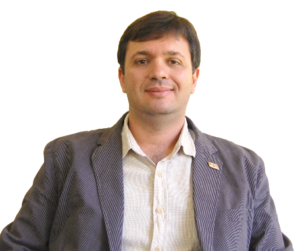 Biopesticides, also known as "biological products", contribute to the adoption of integrated pest management. In the last 5 years, this category of products has represented around 13% of the registrations approved by the Ministry of Agriculture, in an upward curve.
Marcelo Augusto Boechat Morandi is an agronomist and has a master's degree in phytopathology from the Federal University of Viçosa and holds a Phd in phytopathology from the University of Guelph in Canada. He is currently the general manager at the Brazilian Agricultural Research Agency (Embrapa), at the Environment unit, where he works in research and development at the interface between agriculture and the environment related to plant
health and biological control. Embrapa is a state-owned company and is spread across the national territory in 7 central units and 43 decentralized units. Its active assets in the last quarter of 2019 were valued at US$ 372.7 million, with a total budget of US$ 727.6 million for the year 2020. The company's staff is 9,450 employees, among them 2,416 are researchers.
The company also has a strong international presence due to 203 bilateral agreements in 47 different countries at more than 147 institutions worldwide. The researcher gave an interview to AgriBrasilis highlighting his research at Embrapa, the introduction of biological products on the market and the integrated pest management in Brazil.
AgriBrasilis – What are the main scientific researches at Embrapa – Environment regarding sustainable production? 
Marcelo Morandi – Embrapa – Environment, was founded in 1982, and it is an international reference to reconcile the productive systems' demands with conservation of natural resources and environmental
preservation, aiming sustainability for the benefit of the society. The main technologies, products and generated services include environmental management tools, more sustainable agricultural practices, environmental impact assessments, analysis of global climate change scenarios wherein, there is a huge range of results that points out to the sustainability of agriculture.
AgriBrasilis – How integrated management can lead to more environmentally responsible agriculture?
Marcelo Morandi – Data shows that increased production in the last decades has been coming much more from higher yields than the planted area increased. In just over four decades, Brazil had gone from food insecurity and dependence on imports condition to tropical agricultural sovereignty condition. However, we are in a time of great changes, that reflects the reality of agriculture, and imposes the challenge of enabling innovative technologies that guarantee food production in a global climate change scenario and reduction of environmental impacts.
The society's ascendant concern with the environment and it's demand for healthy and contaminant-free foods is changing the agricultural scenery, resulting in markets for foods grown without the use of pesticides or those with seals that guarantee that pesticides have been used properly. This implies the need to reduce dependence on chemicals and other energy inputs, aiming the greater use of biological processes in agricultural systems. Pest, disease and weed management are a key factor for quality commercial scale
food production. Inadequate control might result in high losses, greater than 40%.
On the other hand, pest control sometimes represents more than 30% of the growth cost. Therefore, phytosanitary control must follow the integrated pest management principles, that in summary, are the set of good practices available to control damage caused by pests. There, cultural, physical, chemical, biological and even legislative methods are included. At the integrated pest management principles, the
use of pesticides is associated with its correct application, rationally, according to the recommendations of the agronomic recipe issued by a qualified professional, to minimize possible risks.
Thus, practices aimed at rationalizing the use of chemical inputs and good management practices should be encouraged and adopted, but in order to guarantee the safety and profitability of the activity.
AgriBrasilis – What impacts has Brazil seen in recent years in the biological sector?
Marcelo Morandi – It is estimated that biological control today in Brazil is used in an area greater than 20 million hectares, including natural enemies and microbial agents. However, this data considers only registered products. The number can be higher if we consider the use of products made on farm. This market has rised in Brazil at rates above the world average, between 15 and 20% per year, against 7 to 10%  globally.
There are already 265 products registered for more than 120 pests. In 2018, biological control generated approximately US$ 121,5 million in Brazil and the country already represents about 10% of the biological market in the world. Biological products are used in virtually all crops, from vegetables to large crops such as soy and sugarcane. It is estimated that in at least 20% of the soybean area and 40% of the sugarcane area, biological products are already used.
AgriBrasilis – Important markets such as Europe, by law, do not allow the use of certain active ingredient, How Brazil has met international demands?
Marcelo Morandi – Brazil adopts internationally accepted criteria for registering, labeling and using of pesticides. However, each country has its particularities and requirements applied to its reality. These local taxes result in non-tariff barriers and sanitary requirements in several countries. As a major producer and exporter of agricultural products to more than 160 countries, Brazil has to meet the criteria of importers. In general, we have been very successful in this process.
But this issue stresses the importance of the country having an agile and efficient pesticide registration process (including biological products), so that new, more modern and less toxic products can be available on the market, replacing more toxic or banned products.
AgriBrasilis – How is the process of discovering new agents and the introduction of a pest's new natural enemy into the environment?
Marcelo Morandi – The process from discovery to registration and release  of a new biological product
on the market goes through a series of steps, which are essential to ensure the safety and effectiveness of the product. Including steps to identify and research new assets, scale production and formulation, field evaluation, security analysis and, finally, registration. This process can take an average of 5 years, but it is essential for the success and credibility of biological control.
AgriBrasilis – Brazil is a great pole of tropical agriculture. Are we launching or following
global tendencies?
Marcelo Morandi – Brazil is a leader in developing technologies for tropical agriculture and has the knowledge and structure to emerge on the world stage as a great innovator in the development of biological products, especially for its richness in biodiversity. The country has become a pioneer in the production and use of microbial and enemy control agents to control pests and diseases.
The Brazilian sector for biocontrol agents has grown and has diversified significantly in recent years. Studies developed at Universities and Research centers have been increasingly transferred to industry.
Investments in the sector have increased significantly. From 2015 to 2019, 40 new companies injected into the market their first product. There are currently 80 registered companies, between them, traditional companies in the pesticide production sector.
Many biological control companies in Europe, North America and even Asian countries have partnered
with national companies, bringing new technologies and investments.